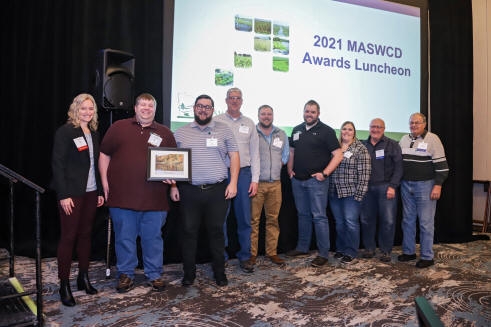 Recognized for its innovative conservation activities and demonstrated leadership that has achieved significant results in the protection of Minnesota's land and water resources, West Otter Tail Soil & Water Conservation District (SWCD) received the 2021 DNR Division of Ecological and Water Resources Appreciation Award.
During the 85th annual meeting of the Minnesota Association of Soil and Water Conservation Districts (MASWCD) the Minnesota Department of Natural Resources Division of Ecological and Water Resources presented the West Otter Tail SWCD with the award in Bloomington. The award recognizes the innovative approach and demonstrates leadership in implementing conservation programs.
"The West Otter Tail SWCD is very deserving of this award. The SWCD has made significant contributions to water resources management through partnerships and programs and a positive "can do" attitude!" said Julie Aadland, MNDNR Area Hydrologist. "They have been open minded, innovative, cooperative, and effective partners in water quality improvement, and water conservation and management."

Over the years, the SWCD has been actively involved in watershed planning through the state's One Watershed One Plan initiative and has assisted the MPCA and DNR with the Watershed Restorations and Protection Plan for the Otter Tail River. The SWCD received a DNR Conservation Partners Legacy Grant to partner with the DNR Fisheries to design and oversee installation of a walleye spawning bed on Gizzard Creek which enters West Battle Lake.

In addition, the SWCD has partnered with neighboring SWCDs to meet the needs of the county by sharing services such as a shoreline specialist and engineer position that help to accelerate conservation practice implementation. The SWCD has also been a leader in the state when it comes to implementing the state's Buffer Initiative by actively working with landowners to finding the best possible solution for coming into compliance.

Congratulations to the West Otter Tail SWCD!

Posted in: News